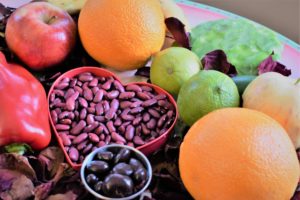 February is the Heart Month, and we are inviting all friends and family members to take care of our hearts and sweethearts as well. 
In U.S. an estimated 44 million women are affected by cardiovascular diseases[1]. Cardiovascular disease is caused by a process called atherosclerosis that is narrowing of the arteries due to plaque (cholesterol) buildup.   One thing we can do to prevent heart disease is modifying our eating patterns in the direction of a healthier lifestyle.  Eating more fruits and vegetables, consuming whole grains, lean meats, and drinking low fat milk is good for our hearts, and this information is  all over the internet, books, magazines, scientific journals and so on.  The question is how to implement these changes.  Here we go one day at a time and in red! 
Breakfast is important.  We suggest a Redfast to start your day with oatmeal, juicy strawberries, and almonds for protein and healthy fats.
Invite a friend for lunch:  Redunch:  Easy to prepare green salad, adorned with red rings of red peppers, adding antioxidant rich cranberries, with a couple of friends with blackberries.  No need of high-calorie dressing because we have our creamy yogurt-strawberry-dressing.  Simply redlicious!
Go out for dinner. Let's have a Dinnered:  Dress your enchiladas in red tomato salsa, and a hairdo of red tomatoes, with a good companionship of red rice.   
Enjoy a sweet dessert with your sweetheart without regrets and being mindful about portion control with dark chocolate tidbits and strawberries!
Von Appetite, Buen Provecho! In good health for our heart, mind, and body!
Araceli Vázquez, MS, RDN, LD
Dietitian/Nutrióloga
[1] https://www.goredforwomen.org/about-heart-disease/facts_about_heart_disease_in_women-sub-category/statistics-at-a-glance/Accessed February 08, 2018
Please follow and like us: